Cliff ran 2:26:56 at the Nagoya Women's Marathon in Japan on March 10.
Rachel Cliff breaks Canadian women's marathon record
Rachel Cliff ran 2:26:56 at the Nagoya Women's Marathon in Japan on March 10, breaking Lanni Marchant's record of 2:28:00 by more than a minute. She placed 15th in the race overall.
Cliff made her marathon debut at Berlin in 2018, nearly reaching the record then — she ran 2:28:53.
Cliff talked to Canadian Running about her race. She knew she had potential to break the record at 30K.
Cliff has been spending a lot of time in Japan, she ran a tune-up half marathon in Marugame half-marathon, where she ran 1:10:28, the second fastest Canadian woman's half time ever there. (Cliff owns the half-marathon record, she set it in 2018.) Canadian Running spoke to her about the Japanese running scene a few weeks ago. "There is a real love for road racing in Japan and I think because of this they have a lot of depth in their races–anyone can see this by looking at the IAAF rankings but experiencing it first hand was pretty cool," she said.
What's next for Cliff? She has her sites set on the summer track season, and is hoping to qualify for the Olympics in possibly both the 10,000m and the marathon. Lanni Marchant completed the double at Rio in 2016.
Guelph totally dominated Canadian university indoor track & field championships
For the second year in a row, Guelph University captured both the men's and women's team Canadian championships. Jenna Westaway — who earlier this year broke the Canadian indoor 800m and 1K records — was named female athlete of the meet, winning the 1500, the 1000 and was on the top 4x800 relay team.
The male athlete of the meet accolade went to York's Pierce Lepage, who showed mega versatility, winning the 60m hurdles, placing third in the high jump and running on the second-place 4x200 relay team.
Video recaps of all three days of competition are embedded below. You can see the complete results here.
Three Canadians medal in the NCAA indoor track & field championships
It was a big weekend for collegiate track and field.
In NCAA Division I competition, six Canadians made the national championships, and three walking away with medals:
Marco Arop (Mississippi State) and Robert Heppenstall (Wake Forest) went 2-3 in the 800m, with American Bryce Hoppel winning the race. Arop set the Canadian record in the 800 earlier this year.

Kyra Constantine (University of Southern California) came third in the 200.

Charlotte Prouse (New Mexico) finished 5th in the 50000 and 11th in the 3000.

Nicole Hutchinson (Villanova) finished 13th in the 3000. Villanova came 4th in the distance medley relay.

Aurora Rynda was on Michigan's distance medley relay team. They placed 5th.
You can see the complete results here.
The Art Gallery of Hamilton is hosting an Around the Bay art exhibit
If you're in the GTA, The Art Gallery of Hamilton is showcasing art inspired by Around the Bay by Dylan Swan. The exhibit begins March 9 and runs until May 5.
The AGH website says, "Since 2015, painter Dylan Swan has been creating portraits for every kilometre of the race's 30 km route. This exhibition will present Swan's entire series, and will also feature photographs, trophies and ephemera chronicling the evolution of this race from 1894 to the present day."
Entry is free!
CBC Sports made an amazing montage for International Women's Day
Is there anything better than an excellent sports montage?
Upcoming races to watch
It's almost spring, which means spring race season is here! I've been rounding up and sharing all the Canadian race starts to know about as I discover them, but here is a round-up of the major ones I know about so far:
Sometime in March or early April: The Barkley marathons, possibly the hardest ultramarathon around. With Gary Robbins injured, I'm not sure there will be any Canadians on the start list this year. Follow @keithdunn on Twitter to stay up-to-date on all things Barkley.

March 17: The United NYC half-marathon will feature Canadians Cameron Levins and Sasha Gollish.

March 30: Canada is sending a 24-member strong team to the Cross-country world championships, featuring Natasha Wodak, Jessica O'Connell, Evan Esselink and Rory Linkletter.

April 7: Melanie Myrand will tackle the Rotterdam marathon.

April 15: Krista DuChene will be running Boston, after her surprising third place finish last year.

April 28: Canadian men's marathon record holder Cameron Levins will have his second attempt at 42.2 take place at the London marathon.

April 28: Hamburg marathon will feature Canadians Reid Coolsaet and Trevor Hofbauer going for the world marathon standard of 2:13.

May 5: 2018 Boston Marathon champion, Japanese runner Yuki Kawauchi, is running his second marathon in three weeks when he toes the line at the BMO Vancouver marathon.
Changes to the Boston marathon elite races start for 2019
Last year, when the Boston Marathon's completely insane weather brought totally unexpected results, people got upset when mass-start female runners would not be eligible for prize money but mass-start male runners were. It has to do with the fact that elite women started their race at a different time, technically running a different race, while the elite men started at the same time as the mass start, so everyone else was, technically, running the same race as the elites.
The Boston Athletic Association eventually gave the top finishers the prize money.
This year, they are giving the elite men their own start to avoid this situation again.
According to Women's Running, the elite women will go at 9:32 am, the elite men will go at 10 am and the mass start will begin at 10:02 am.
This will also prevent the hobby heroes who go out too fast in order to score the photo and experience of "leading" the Boston marathon for 400 metres.
The book to read this week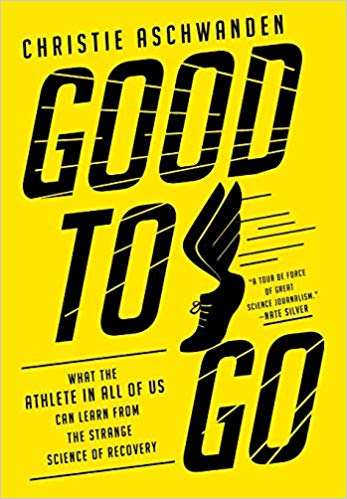 Good to Go by Christie Aschwanden explores all the recovery fads: from the development of sports drinks to ice baths to cyrotherapy and more. The big takeaway? More fads are dumb, most common knowledge is wrong and just… be reasonable and listen to your body.
Strides: links I liked
That's it for this week! Thanks for reading and happy running! If you have any questions, comments, concerns or ideas, shoot me an email at runthenorthnews@gmail.com.