Eliud remains the GOAT, the women's race was one to watch and more.
The London marathon was fun
Eliud is still the GOAT
Eliud Kipchoge remains the GOAT. He won London for the record-setting fourth time. It's his 10th marathon victory in a row.
That is the big takeaway from the London marathon this year. His winning time of 2:02:37 is a course record, the second fastest marathon ever run — second to his own world record of 2:01:39 set in Berlin last year — and he looked breeeeeeezy as he headed towards the finish line.
Mosinet Geremew came second in 2:02:55, which is the third fastest marathon ever run, behind Eliud's Berlin 2018 and London 2019 performances. Mul Washihun was third in 2:03:16.
Mo Farah, who race organizers tried to herald as Eliud's biggest competition coming into the race, placed fifth in 2:05:39.
Brigid Kosgei destroyed a stacked women's field
On the women's side Brigid Kosgei won in a time of 2:18:20, destroying what Let's Run called the "greatest field in women's marathon history."
Brigid is 25 years old, making her the youngest-ever London champion. She closed her race in a time of 1:06:42, which is the fastest second half ever run by a woman in a full marathon.
Vivian Cheruiyot, who was the reigning defending champion, came second in 2:20:14. Rosa Dereje came third in 2:20:51.
Mary Keitany, the 2018 NYC women's champion and one of the greatest women marathoners ever, finished fifth, running 2:20:58.
The other notable story was the debut of American Emily Sisson, who ran 2:23:08 for sixth place. That performance is only eight seconds off Jordan Hasay's record for a debut race, and is the seventh fastest American women's marathon time ever.
This is the best finish of the race
The best finish of the race, however, goes to this guy (click through the tweet to watch the video):
Big Ben is Lukas Bates, a British runner who was tying to set a Guinness World Record of fastest marathon dressed as a landmark while raising money for Alzheimer's Society and Alzheimer's Research UK, because both his grandmothers suffered from the disease. He finished in 3:54, well off his time goal — he had to beat 3:34:34 to set the record — but he's raised over £3,800 at the time I'm writing this (Sunday evening), well over his original £1,000 goal. Good job, Lukas.
The Evening Express profiled Lukas before his run:
"Having run the London Marathon four times previously, this year I decided I wanted to do something different, have a bit of fun and wear a crazy costume," he said.

"It's going to be very hard to break the record with the costume I've chosen. I could have made it smaller and easier to carry, but I want it to be a real challenge.

"I've made the costume lighter, but wind is still a massive issue because of the shape and size of it. Even a little breeze can push me sideways."
If you want to support him, check out his fundraising page here.
Top Canadians at London
Cam Levins was supposed to run London, but dropped out a few months ago due to injury.
Noel Loo was the top Canadian man of the day, crossing the finish in 2:36:09. Noel is an 18-year-old from Calgary currently studying at the University of Cambridge in the UK (if my Googling is correct), and he's clearly made it in the running world: Let's Run had an intense thread breaking down his Strava data.

Chris Schwarz was the second Canadian man, running 2:42:45.
Rounding out the Canadian top three was Mark Davis, with a 2:44:59 performance.
Allison Blackmore was the top Canadian woman at London, running 2:55:04. She also placed first overall in the 50-54 women's age category. Blackmore was also the top Canadian at NYC in 2018.
I could find very little about Allison online, other than a series of very impressive race results. Someone profile her stat so I can link to it.
Ana Laura Fray was the second Canadian woman, finishing in 3:02:00.
The third Canadian woman was Jacqueline Petterson, whose time was 3:08:55.
Trevor Hofbauer PBs at Hamburg
2017 Canadian marathon champion Trevor Hofbauer ran 2:16:48 in Hamburg, placing 25th in the race overall. The mark is more than a two-minute improvement over his previous personal best of 2:18:06.
Canadian Running profiled Trevor in 2017.
A lot has changed since this profile. Hofbauer recently left Guelph to train solo in his hometown of Calgary, and it's a move that has served him well.
From Canadian Running in 2018:
Hofbauer describes himself as an introvert, and considering he's self-coached and trains alone 90 per cent of the time, that's not surprising. "I prefer to be by myself. It allows me to gather my thoughts, align my goals and problem-solve. It's my quiet time in the day."

He'll meet up with other runners for a long run on Sundays, but beyond that, most of his training is done alone. "I always knew I wanted to train alone. I trained by myself for three year until I moved to Guelph. Training with the guys in Guelph was good for motivation, it's not that I hate training in a group, it's that I prefer training alone."
Reid Coolsaet was also supposed to run Hamburg, but he dropped out due to injury setting back his training too much.
Tristan Woodfine and Anne-Marie Comeau win Banque Scotia 21K de Montreal
Here in Canada, the Banque Scotia 21K de Montreal took place. Tristan Woodfine won the men's race in 1:05:27.
Woodfine is having a great season. He also recently won the Spring Run-Off in Toronto and was the top Canadian in Houston marathon in January.
Second place went to Réjean Chiasson, who ran 1:07:59 and third place was Pierre-Lou Billerot, who crossed the line in 1:08:09.
Anne-Marie Comeau won the woman's race in 1:14:06. Rachel Hannah came second in 1:15:14 and Sasha Gollish rounded out the top three with her 1:17:42 performance.
Anne-Marie is an Olympian… in cross-country skiing.
The 22-year-old participated in four events in the in the 2018 PyeongChang Winter Olympics. Her best result was a 13th place finish as part of the 4x5km relay team.
She was a cross-country star at Laval University before focusing on skiing in preparation for the Olympics.
With that experience behind her, she's now focused on road racing and is preparing for her first full marathon, Ottawa on May 26th.
This 2018 profile from Faster Skier does a good job of showing how Anne-Marie is balancing her love of two sports:
A talented runner, she had set the Quebec junior record at 5,000 meters (16:34.4, a time she has since improved on). And she won a silver medal at Junior Pan-American Games.

But skiing was something she couldn't shake.

"I did more training for running, but skiing remained a sport that I love in the winter," Comeau wrote in an interview with FasterSkier last week, translated from French into English. "I realized over the months that I missed ski racing, and so I decided in autumn of 2017 that I would do the selection races for Olympics, especially since they were at Mont-Ste-Anne where I live."
This man was brave enough to wear a Toronto Maple Leafs jersey at the Boston marathon
Dave Emilio, the president of the Beaches Runners Club in Toronto, made the brave move of donning a Toronto Maple Leafs jersey for the final mile of the Boston marathon a few weeks ago — which took place right in the middle of the Bruins-Leafs seven-game playoff series.
The Boston Herald wrote a story about the sighting:
The Toronto-native donned a Maple Leafs jersey in front of the Boston faithful, picking it up from his son at mile 25 and wearing it proudly across the finish on Boylston Street.

"I got some boos, but they were smiling and booing at the same time," Emilio told the Herald. "Boston fans are way better than New York fans. They were a pretty friendly bunch."

Emilio said running the race while the Maple Leafs and Bruins are in a heated playoff battle was a neat experience.
(This link was sent to me by reader Mike! Thanks Mike! If you see a fun story you think I'd like to share, please email me: runthenorthnews@gmail.com.)
Toronto Star profiles Rachel Cliff
Rachel Cliff's star just keeps rising. The Toronto Star published a Q+A with the Canadian marathon record holder this weekend:
What's the coolest thing about being a record holder?

The race I ran the record in, I actually placed 15th and the majority of the athletes ahead of me were not national record holders. That keeps you humble. But also for me, it's mostly about getting to that higher level on the world stage and setting the bar higher for Canadians. There's people who raised that bar before me — Lanni Marchant set a new Canadian marathon record in 2013, and Sylvia Ruegger before that (in 1985) — so it's fun to feel like I'm one of the athletes pushing to make Canadian women's sport more competitive.
The cutest running story you'll read this week
In a random series of events, a three-year-old in Pembroke, Massachusetts ended up with Des Linden's 2019 Boston Marathon bib.
Jennifer Kyle first shared the story on her Instagram:
While watching the race last Monday, we pointed out Des Linden's bib to Desmond, and he was VERY excited to see a runner with his name. His imagination is in full force and every day he is a new character. On race day he was Des Linden, requested a "runner's outfit" with a "name tag", and spent the morning running around the house. I sent a picture of him to my parents because he's so stinking adorable. My Dad was eating lunch at the airport the day after the race and Des Linden happened to be sitting behind him at the restaurant. He went up to her, mentioned that his grandson is a fan of hers, and showed her the picture of Desmond in his runner's outfit. She then pulled her MARATHON BIB out of her bag, signed it for Desmond, and gave it to my Dad.
The story blew up, and Runner's World reached out to Jennifer get more information, and got Des Linden's take on the whole thing:
Since the race, Desmond has been pretending to be Linden. His mom says he's in the stage where he takes on a lot of personalities, so Linden is currently sharing time with Desmond's desire to be one of the dogs from Disney's Lady and the Tramp. But Linden is the one who comes out more often.

"He's been calling her Desiree now, super formal, and I don't know why," Kyle said. "But now he's always giddy and always asks to watch videos of Des like, 'May I please watch videos of Desiree running?'"
The book to read this week: Inside a Marathon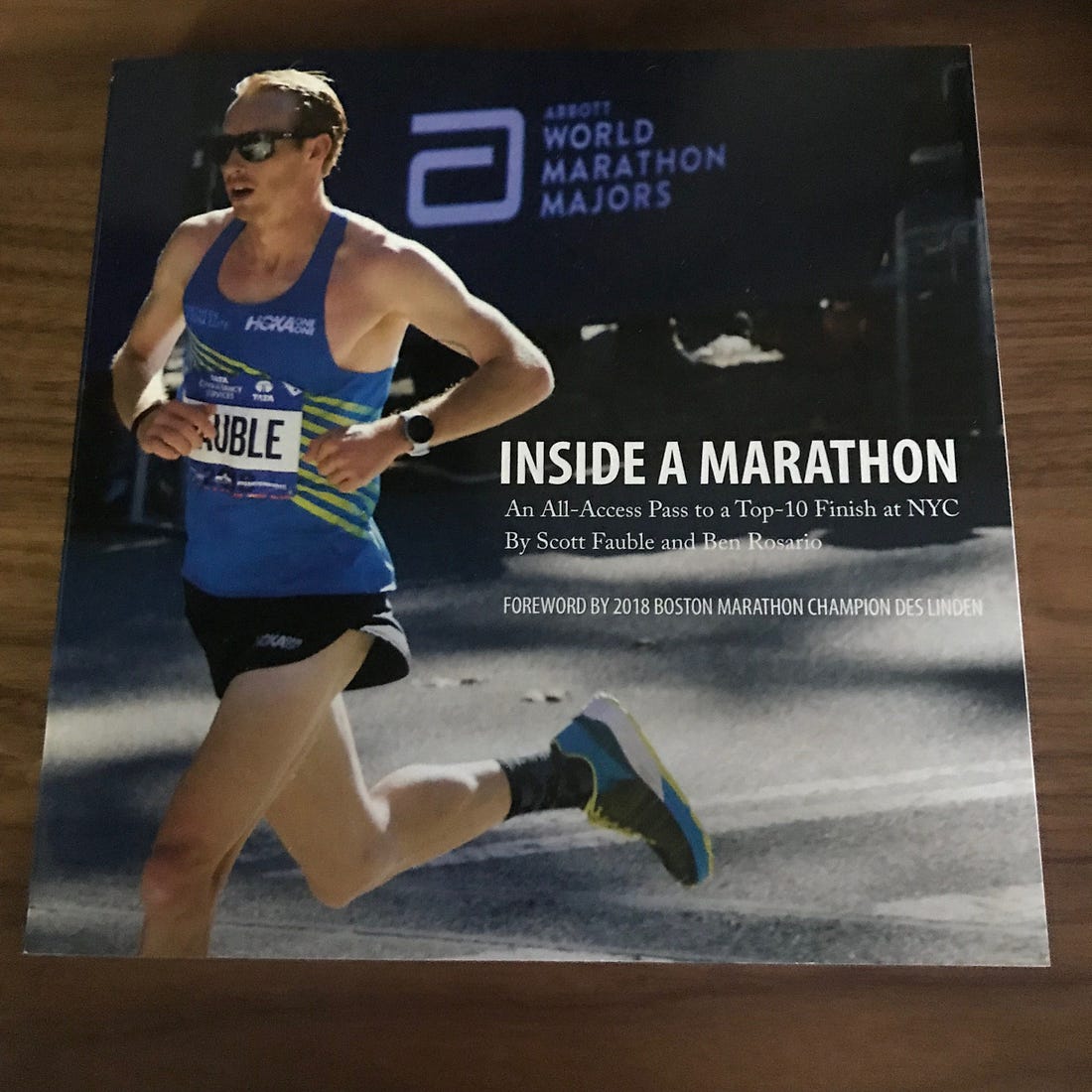 I am full-on obsessed with Scott Fauble now. Scott is an American marathoner who runs with NAZ Elite in Arizona. He recently finished seventh at Boston, running 2:09:10, a huge breakthrough for Fauble and also for American men's running.
But that's not why I am obsessed.
He's funny, he's active on social media and has actually replied to me a few times, he has a Cormac McCarthy quote tattooed on his back and I really liked his book, Inside a Marathon. It's a deep, deep dive into Fauble's buildup for the 2018 New York City Marathon. The book is essentially his training journal — each chapter is a breakdown of a single week, with reflects from both Scott and his coach Ben Rosario. It was so fun to see, at the most granular level, what the day-to-day life of an elite marathoner looks like. It helps that Scott is a good writer and the book is beautifully packaged.
I ordered the book through the NAZ website. It wasn't cheap, and shipping to Canada cost almost as much as the book. It was totally worth it, though, if this kind of stuff is up your alley. And if you see a copy at a marathon expo this year, pick it up. You won't be disappointed.
Strides: Links worth reading
→ Michael Phelps (yes, that Michael Phelps) ran a 5K over Thanksgiving and thought it was the worst thing he's ever done:
Phelps recently revealed in an interview with NBC Sports that last year he attempted a 5K on Thanksgiving—and it did not go well. Though he says he won the race, he also said breaking the tape became a battle, between himself and an 11-year-old girl.

"That was the worst idea in the world," he told NBC Sports.

For one, as he went on to explain, he was pretty sure he was still dealing with plantar fasciitis, and it had been a painful recovery. Additionally, he's not exactly a runner: "I don't run, and I don't do anything outside of the water," he said.

"I don't know if I'll ever do that again," Phelps told NBC Sports. "I did win it, so I think I'm going to retire on top there."
→ Michael Besson is a blind man who used to watch the Boston marathon every year. After a health scare, he got in shape, became a runner and set a goal for himself: run the race he watched every year. He did just that, raising money for the charity The Play Brigade, which creates opportunities for kids of all abilities to participate in sports.
Runner's World profiled Michael shortly before the race:
Regardless of how he gets in his miles, he makes sure to do so. Now, he is not only running for his health, but for his children, too.

All of Besson's three children were born with the same visual impairment that he has. His youngest daughter is also autistic, so she didn't have many opportunities for weekend activities early on. That's when the family found The Play Brigade, an organization that creates equal opportunities for all children to participate in sports and other activities.

"I'm excited [to run Boston]. When I train, any negativity in my mind goes away," Besson said. "Knowing what they stand for, running with [The Play Brigade Team] means a lot."
Michael hasn't quite reached his fundraising goal of $7,500. If you want to support him, you can do so here.
→ I enjoyed Teal Burrell's race report of what it's like being a sub-elite woman at the Boston marathon. Teal was invited to participate in the women's only start — an opportunity 60 women received.
On my way to the finish, I'd enjoy the elite experience. The crowds were amazing. As predicted, being all alone—while not ideal—meant everyone was cheering for me, yelling Burrell when they saw my bib or "head up, wings out!" when they saw my Oiselle kit. Whenever someone yelled for Teal, it was extra special because I knew that person actually knew me, and I tried to give them a small wave.

…

What seemed like a little while later (but probably wasn't), Jared Ward and another male passed me. We were in a much quieter section (nicknamed Cemetery Mile) so when I screamed "Go Jared" he actually heard me and gave me a thumbs up. (He would finish 8th, 16 seconds behind Fauble.)
→ Gary Robbins is recommending books on Instagram again!
If I were to recommend 3 books, they'd be
1) Beartown
2) Us Against You
3) The Push

My latest 11 titles and how I'd rate them:
Beartown - Fredrik Backman (5⭐)
Us Against You - Fredrick Backman (5⭐)
A Man Called Ove - Fredrik Backman (4)
The Push - Tommy Caldwell (5⭐)
Never Split The Difference - Chris Voss (4)
Wonder - R.J. Palacio (4)
The Stranger In The Woods - Michael Finkel (3.5)
Where I Belong - Alan Doyle (4) (Hilarious)
Ayiti - Roxane Gay (3)
Calypso - David Sedaris (4)
Educated - Tara Westover (4.5)
The final kick
That's it for this week! Thanks for reading and keep on running!
If you want to get in touch, email me at runthenorthnews@gmail.com.