This issue is dedicated to cross-country. There's some other stuff in here too, though.
Hello!
Welcome to the latest issue of Run the North. There's a lot of cross-country stuff in this, so buckle up.
I am new to the world of cross-country. I did not run in high school or college. My high school did not have a track team or a cross-country team. My college didn't either. I've only begun to learn about it, in a meaningful way, through working on this newsletter.
But I think my relationship to cross-country is familiar to anyone who didn't run it. You don't do it, so you don't know about it. Then, as you become a runner and learn more about running, it seems cool. But it's like this secret club. Races for normal people are few and far between. It's not in the Olympics. It's not on TV. How is someone supposed to become a cross-country fan?
I hope this edition of Run the North is a start. I learned a lot putting it together.
This is another issue that might be too long for your inbox, just a heads up. If it gets cut off, you can read it online.
After the cross-country stuff, there's a round-up of links, podcasts, and a new running documentary to check out. So if you want to skip the cross-country stuff, just keep scrolling.
Thanks for reading!
Here's your Canadian cross-country championships preview
The Canadian cross-country championships are taking place on Saturday, Nov. 30 in Abbotsford, B.C. The races are being held at Clearbrook Park — you can see a map of the course here. Athletics Canada also has a photo breakdown of the course.
There are races all day, from masters to U16, but I am only focusing on the senior races.
Both the senior men and senior women are running 10K. There are 49 women and 99 men set to line up on Saturday. You can see the full start list here.
Last year, Geneviève Lalonde won the women's race and Luc Bruchet won the men's race. Both are returning to defend their titles.
5 men to watch
1. Luc Bruchet
Luc Bruchet is a two-time Canadian cross-country champion. He totally dominated his last two times toeing the cross-country start line. The 28-year-old from Vancouver ran the 5,000m for Canada at the 2016 Rio Olympics.
He missed out on the world cross-country championships due to injury and according to his Instagram, it's been a rough road back. But if he's healthy, he should be tough to beat.
Read this: Canadian Running talked to Luc in January 2018 about "the moment that changed" everything" for him.
2. Chris Balestrini
It feels like Chris Balestrini has been on the start line of every Canadian race this year. The 27-year-old ran his first marathon this spring, placed third at the Canadian half-marathon championships in June and ran his second marathon in Toronto in the fall. Along the way, he's run several other races, all while coaching at Western University, where he is studying for a double PhD and medical degree.
He placed 26th last year, but has had a strong, high-volume 2019. Can that translate into a strong performance here?
Read this: Western University profiled Chris just before he ran the Toronto Waterfront Marathon.
3. Ben Preisner
Ben Preisner graduated from University of Tulsa in May and has been tearing up the Canadian road racing scene ever since. The 23-year-old won the Vancouver and Toronto half-marathons. He was also the top Canadian at the world cross-country championships at the beginning the year, placing 77th overall.
He came sixth at the Canadian championships last year. Will his move up in distance (his first half-marathons were this year) help him move up the rankings?
Read this: Running in Canada ran a Q&A with Ben after he graduated university.
4. John Gay
John Gay was a surprise qualifier in the steeplechase for the world championships this year. He also was on the Canadian team sent to the world cross-country championships, as part of the mixed-relay team. The 23-year-old has one year of eligibility left at the University of British Columbia.
He placed eighth in this race last year. Can his international experience help him improve upon that placement in 2019?
Read this: Canadian Running ran a Q&A with John Gay last year.
5. Leonard Chesoo
Leonard Chesoo isn't Canadian. The 22-year-old Kenyan is a student at Concordia University of Edmonton. Since arriving in Canada he's been destroying both his collegiate competition and the local road racing scene. He won the Edmonton lululemon 10K against some of Canada's biggest running names and was named the 2018-2019 Alberta Colleges Athletics Conference (ACAC) rookie athlete of the year.
Leonard isn't eligible to win the Canadian crown, but I expect him to be a factor in this race.
Read this: CBC Sports profiled Leonard in August after his breakout 10K.
Other notable men to watch
Other men on the start line to pay attention to include Connor Black, the 2018 Canadian university cross-country champion; Rob Watson, the founder of Mile2Marathon and former elite marathoner; and Mike Tate, who was on the team Canada sent to the world cross-country championships this year.
You can see the full start list here.
5 women to watch
1. Geneviève Lalonde
Steeplechaser Geneviève Lalonde is the defending Canadian cross-country champion. The 28-year-old was also the top Canadian finisher at the world cross-country championships in March, placing 20th overall. Lalonde has had a strong 2019, winning gold in the steeplechase at the PanAm Games and lowering her own Canadian record in the event.
She's going to be tough to beat, but anything can happen.
Read this: Canadian Running profiled Geneviève after her national championship win last year.
2. Natasha Wodak
Natasha Wodak had a great 2019. She won several races, including the Canadian 10,000m championship, the Canadian 10K road championship and gold in the 10,000m at the PanAm Games. But her track season ended on a low note, with a disappointing 17th place at the world championships in Doha. The 37-year-old was on the Canadian world championships cross-country team, placing 43rd.
She came second at the Canadian championships last year and won it all in 2017. Does she have one more great performance in her to cap off her year?
Read this: In 2016, Natasha wrote a piece for Inner Voice about how she talks to herself.
3. Sasha Gollish
Sasha Gollish running in 2019 has been up and down. The 37-year-old made her marathon debut in January, running Houston in 2:32:54, but dropped out of the world championship marathon in Doha and didn't make it to the start of NYC. Her most recent race was the Philadelphia half-marathon, where she ran 1:18:56 to place 12th. That's well off her personal best of 1:11:52, which she set just last year.
She won the Canadian cross-country championships in 2016, and was in contention last year before she fell. If she's fit and healthy, she could be a factor.
Read this: CBC Sports did a Q&A with Gollish last year.
4. Victoria Coates
Victoria Coates placed sixth at these championships last year and second the year before. The 28-year-old just ran a half-marathon PB of 1:12:38 in Indianapolis at the beginning of the month, which shows she's fit. She was on the 2017 Canadian cross-country team and represented Canada at the 2018 world half-marathon championships.
Victoria has yet to break out and be in the conversation about top tier Canadian women, but all signs point to that happening in a matter of time.
Read this: CBC Sports wrote a profile of Victoria in 2018 ahead of her representing Canada at the Canadian half-marathon championships.
5. Sarah Inglis
Sarah Inglis is a Scottish runner who trains in Canada. While she's not eligible to win the Canadian championship, I expect her to be a factor in the race. The 28-year-old been racing in the cross-country championships since she's been in Canada, and placed ninth last year. She's had a strong 2019, which included setting the Canadian all-comers 5K record.
She just ran a half-marathon PB of 1:12.22 at the Monterey Half Marathon, which is a tough course. Can she use that fitness to improve on last' year's placement?
Read this: Canadian Running profiled Sarah after her record-setting run this summer.
Other notable women
Other women on the start line to pay attention to include Shona McCulloch, a sophomore at the University of Washington, was just the top Canadian finisher at the NCAA D1, championships and Regan Yee, a steeplechaser coming off a world championship appearance.
You can see the full start list here.
How you can watch
All events will be streamed online at Athletics Canada's website. There are races all day, but the senior women's race is at 2 .p.m. PT (5 p.m. ET) and the senior men's race is at 2:45 p.m. PT (5:45 p.m. ET). The races are free when they are live, but you'll have to pay for the replay.
What else?
→ Running in Canada also has a preview worth reading. Stephen Anderson knows a lot more about cross-country than I do, so check it out.
→ Running in Canada also wrote a post called "An ode to cross-country," which you should also read. It does a good job of explaining why cross country is great and situating cross-country in Canada's current running landscape.
→ Athletics Canada profiled the defending champs, Lalonde and Bruchet, before the race:
"It is a great time to get a really great effort in, but also to go back to the roots of running and just enjoy racing," said Lalonde.

"It's going to be a very fun day with lots of mud and guts. Hopefully some of the young guns will be ready to battle," Bruchet added. "It's not very often national championships are so close to home so I'll have to put on a show."
Men and women to run same distance at Canadian university cross-country championships
In 2020, Canadian universities will have men and women run the same distance, 8K, at the USports national cross-country championships. Well, coaches unanimously voted for this and it needs to pass by the USports commission, but there's no reason it shouldn't.
Women have always run a shorter distance than the men — this year, women ran 8K and men ran 10K.
Why 8K? High school races in Canada normally top out at 6K, according to Canadian Running, so the jump from 6K to 8K is reasonable for runners of all genders. 8K is also more accessible, easier to recover from and encourages a wider variety track athletes to race, as Fast Women pointed out in a recent issue:
If women move to 10K, it shifts the recruiting emphasis and makes, for example, 800m runners who run cross country potentially a little less valuable to teams. Additionally, 10K is a little harder to recover from (say the men who have to race 10K at regionals eight days out from a 10K at nationals). I think the three-season model of the NCAA already puts enough stress on athletes' bodies, so I'd rather see them all meet in the middle at 8K, or even just not worry about "fixing" this. Sure, 10K for women wouldn't be the end of the world, but I also understand why the change hasn't been made.
Who won this year's USports cross-country championships?
The Canadian university cross-country championships took place on Nov. 9 in Kingston, Ont.
Yeah, I know that was almost a month ago, but now that this issue has an entire cross-country section, I'm finally going to write about it.
Toronto's Lucia Stafford wins women's race
The individual women's race was won by University of Toronto's Lucia Stafford (yes, her older sister is Gabriela DeBues-Stafford). It was the first national championship for the 21-year-old, who is a third year engineering student at UofT. Her student profile page is here.
Stafford rebounded in 2019 after a tough 2018. She was diagnosed with Grave's disease and the treatment was impacting her performances. But 2019 saw her come back strong and find a love of the sport again.
"After second year, I thought I was done with cross-country. I was like, ugh, cross-country. But now, I have a new-found love for it," Stafford told Canadian Running after her win. "My team is amazing, everyone keeps it so low-key and fun. Workouts are a blast. We laugh, we cry, but we have a great time and we work hard."
Anne-Marie Comeau, the cross-country-ski-Olympian-turned-elite runner, placed second, running for Laval.
Queen's Branna McDougall placed third.
The MacDougall sisters lead Queen's to women's team title
The women's team event was won by Queen's University. Branna's third place finish was followed by Kara Blair (fourth), Brogan McDougall (sixth) Marley Beckett (16th) and Tori Bouck (24th).
From the Queen's University write-up of the win:
"It feels amazing," said MacDougall after claiming the national team title. "It's a moment I'm never going to forget. It's just so fulfilling and I'm really happy we could do this for (head coach) Steve (Boyd). He's been through everything with us and I'm just really glad we could bring it home finally. I grew up here and I grew up with Steve as my coach, so it was really pretty emotional to see him so happy and know that we did this together."
Branna and Brogan are sisters, and they get a lot of attention for their running dominance.
They grew up in Kingston and both committed to their local university. 21-year-old Branna is in her fourth year and is studying engineering. 19-year-old Brogan is in her second year and is studying applied science.
This profile from Visit Kingston is a great one to get the rundown of who they are and why they love running:
Although cross country is an individual sport but at the USports level there's a lot made of the team aspect of it. Do you like that?

Branna: "For me the individual part is the more important part but the team is a close second to that. You foster these really special relationships because you all love running. With my running friends I connect really well with them so you have this special relationship and you want to do well because they're your best friends."

Brogan: "In the past, I've always thought of cross country being an individual sport. This year, however, I got a new appreciation for team-orientated goals. I was injured going into the championship race and if I had been running for myself I wouldn't have attempted to run USports. Since our team goal this year was so important to us all, I put aside my personal goals and ran so our team accomplish what we wanted to do."
UBC's Kieran Lumb wins men's race
University of British Columbia's Kieran Lumb won the men's race, completing the 10K course in 30:41. It was the first national championship for the 21-year-old.
Lumb is in his third year at UBC and this race was not only his first USports championship, it was his first USports championship race. UBC used to compete in the NAIA. His student profile page is here.
"I wasn't sure what the plan was today. I thought the Calgary boys might take it out really quickly again. But today we settled in and I felt good," Lumb told Canadian Running after the race. "I started to notice that I was taking longer to tire than my competition. I went with about 400m to go."
Guelph's Mitchell Ubene came second and Calgary's Russell Pennock placed third.
Calgary wins back-to-back men's team titles
Calgary won the men's team event for the second year in a row.
Russell Pennock's third place finish was followed by Matthew Travaglini (fourth), Stefan Daniel (12th), Eric Lutz (20th) and Max Thiessen (26th).
You can see the complete results from the entire championships here.
How did Canadians do at the NCAA national cross-country championships?
The DI NCAA cross-country national championships took place on Nov. 23 in Terre Haute, Indiana.
Three Canadian men and three Canadian women ran in the finals. The men run 10K and the women run 6K in the U.S.
On the men's side:
The overall men's title was won by Iowa State's Edwin Kurgat. The team event was won by Brigham Young University — Canadian Rory Linkletter's alma mater. BYU toppled a four-year win streak by Northern Arizona with the victory.
On the women's side:
Shona McCulloch, a sophomore at the University of Washington, placed 115th in 21:20.3. Shona is from Nepean, Ontario. Her school profile page is here.

Taryn O'Neill, a freshman at Northern Arizona University, placed 123rd in 21:24.6. Taryn is from Canmore, Alberta. Her school profile page is here. Canadian Running profiled Taryn before the race, you can read that here.

Maggie Smith, a freshman at Villanova University, placed 141st in 21:33.2. Maggie is from Halifax, N.S. Her school profile page is here.
The overall women's title was won by New Mexico's Weini Kelati. The team event was won by Arkansas. It was the school's first cross-country national title and the third national team title for the team of the year. Arkansas also won the indoor and outdoor track national team titles. Arkansas is the second school to complete this triple crown, the last time it happened was in 1986.
NCAA's website has a full recap here.
That's a wrap on the cross-country portion of this issue! If you don't subscribe to Run the North yet and want to, you can sign up using this button:
Run the North comes out every Monday morning.
OK, back to the news!
Gabriela DeBues-Stafford was on the Women Run Canada podcast
Gabriela DeBues-Stafford — the middle-distance runner who now owns six Canadian records because of her remarkable 2019 — was the latest guest on the new podcast Women Run Canada. It's a long conversation and it covers everything: Gabriela's running history, her remarkable 2019, what it was like being in the fastest 1,500m world championships final ever (Gabriela broke the championship record by 2 seconds and the Canadian record by 4 seconds and CAME SIXTH), going to the Olympics in 2016, her approach to racing her marriage, her bisexuality, her move to Scotland to train, her family's impressive running credentials, her mother's death when she was 13 years old and, yes, her amazing 2019.
Gabriela doesn't do a lot of podcasts, and this one is an excellent deep dive into all things Gabriela.
Listen to the conversation here.
Rachel Cliff gets the profile treatment
Rachel Cliff, the Canadian women's marathon record holder, was profiled for Reuters this week. Several outlets picked it up, you can read it at CBC Sports.
The profile mostly covers her move from 5,000m to the marathon. After missing the 2016 Olympics, Rachel thought she might have reached her potential at that distance and decided it was time to move to the marathon.
When Cliff finally made the switch, she made sure she did so with a clear mind rather than carry any grudges from her failed bid to make the team that competed in Rio.

"Distance running is all about being calm and patient and relaxed and I think if you are running with a bunch of negative energy like that it might be sustainable for a few months but you'll kind of exhaust yourself and not enjoy the sport anymore," said Cliff. "So I tried to kind of let it go."
The move paid off: in 2018, she ran the fastest debut marathon by a Canadian woman ever and in 2019, she set the Canadian marathon record of 2:26:56 at the Nagoya Women's Marathon.
Rachel spent the second half of 2019 focusing on the track. She won bronze in the 10,000m at the PanAm Games and represented Canada in the 5,000m at the world championships in Doha.
Rachel is one of three Canadian women with a marathon Olympic qualifier. The other two are Lyndsay Tessier and Dayna Pidhoresky. (I explain how you can qualify in this newsletter issue, if you haven't checked it out yet.) The Olympic team will be selected after May 31, 2020, when the qualification window closes, but Rachel's chances to make the 2020 team look good right now.
Leslie Sexton places 2nd at the Philadelphia half-marathon
Leslie Sexton ran a half-marathon personal best to nab second at the Philadelphia half-marathon over the weekend. Sexton ran 1:11:20 to finish behind Kenyan Vicoty Chepngeno. Her previous PR was 1:13:13, which she set in 2013.
Sexton, who had a rough day at the Toronto waterfront marathon and ended up dropping out, rebounded nicely here.
Kingston's Cleo Boyd also cracked the top five. Cleo ran 1:14:25 to finish in fifth place.
Toronto's Sasha Gollish placed 12th in 1:18:57.
The top Canadian man was Laval's Benjamin Raymond, who ran 1:08:18 to place 12th.
You can see all of Philadelphia's race results here.
Anne-Marie Comeau places 4th at Philadelphia marathon
Anne-Marie Comeau — yes, the same Anne-Marie who placed second at the Canadian cross-country championships I wrote about earlier in this newsletter — placed fourth at the Philadelphia full marathon. She ran 2:41:09, improving upon her debut marathon time of 2:43:58, which she ran in Ottawa in May.
Anne-Marie was originally set to run the Toronto Waterfront Marathon in October, but withdrew. It looks like she regrouped nicely for a strong run in Philly.
Anne-Marie is an Olympian in cross-country skiing. The 23-year-old participated in four events in the in the 2018 PyeongChang Winter Olympics. Her best result was a 13th place finish as part of the 4x5km relay team.
The top Canadian man at the Philadelphia marathon was Alexis Lavoie-Gilbert, who ran 2:23:06 to place eighth. The 28-year-old is an engineering student at Université Laval. It appears that Philadelphia was Alexis's first marathon based on all my Googling, but I can't confirm that. He previously won the Montreal rock & roll half-marathon in 2018.
Eliud Kipchoge and Dalilah Muhammad named World Athletics' athletes of the year
Last week, I wrote about the finalists for the World Athletics (formerly IAAF) finalists for athlete of the year.
The winners: Kenyan marathoner Eliud Kipchoge and American hurdler Dalilah Muhammed.
Eliud Kipchoge won the London marathon in 2019. Then in the fall, he became the first person to run under 2:00 in the marathon distance when he ran 1:59:40 at the INEOS challenge in Venice in October.
London was his only competitive race this year and this win is betting pushback because of that. The INEOS challenge was an exhibition and doesn't qualify for any world records.
But. Did any other performance capture the world's attention in the same way? I don't think so. Love it or hate it, it felt like the entire world was talking about it. That kind of movement and influence shouldn't be ignored.
Congratulations, Eliud. I can't wait to see what you do in 2020.
Dalilah Muhammad won two world championships this year. The 29-year-old American broke her own world record in the 400m hurdles to take gold in that distance and she was on the 4x400m relay team that won gold.
Her first world record run, which happened at the American outdoor track & field championships, was one of the most impressive runs of the year.
It was the first world title for Muhammad, as she placed second at worlds in 2013 and 2017 in the event.
Winning the world title meant that she's only the second female to win and Olympic title, a world championship title and set a world record in this event.
Dalilah surprising beat out Sifan Hassan, who won the impressive 1,500m and 10,000m double at worlds, and Brigid Kosgei, who broke Paula Radcliffe's 16-year-old marathon world record at Chicago. Her win is a bit surprising, but both Hassan and Kosgei associate with shady people (Hassan was coached by now-banned Alberto Salazar and Kosgei's agent is Federico Rosa, who has worked with several known dopers). I don't know if that played a part in selecting the winner, but it feels good to celebrate someone's accomplishments without noting a cloud of controversy around them.
There's a new Barkley Marathons documentary, this one is about Nicky Spinks
The Barkley Marathons is one of the hardest races in the world. Gary Cantrell AKA Lazarus Lake conceived the event. It's five unmarked loops in Frozen Head State Park. Each loop is about 20 miles (probably more). Runners must navigate to checkpoints on the course, marked by books. Find a book, tear out the page that corresponds to your bib, and onwards.
Due to the treacherous terrain of Frozen Head State Park and the unpredictable weather in early spring in Tennessee, it's a hell of a lot harder than it sounds.
Only 15 runners have ever finished (Brett Maune has finished twice and Jared Campbell has finished three times) since it began in 1986.
No Canadian has ever finished. No woman has ever finished.
The race was a bit of a running world secret until 2015, when a documentary was made about it. The Barkley Marathons originally aired on Netflix. It's now available to buy or stream online.
Canadian Gary Robbins was the subject of a second documentary about the race in 2017. Where Dreams Go to Die chronicles Gary's second and third attempts at Barkley, in 2016 and 2017. The film was made by Ethan Newberry, the Ginger Runner on YouTube, and you can watch the whole thing on YouTube.
This new documentary, Last Woman Standing, is about Nicky Spinks' attempt at the 2019 race. Spinks is a 52-year-old ultrarunner from the UK. She owns several British ultrarunning records. She's also a breast cancer survivor and a total badass.
The 2019 Barkley race was particularly brutal. Temperatures dropped to near 0 and it rained. Runner's World has a good recap of this year's race here, if you want to check it out.
Last Woman Standing premiered online on Nov. 19, and it's now available in full on YouTube. Watch it below!
The book to read this week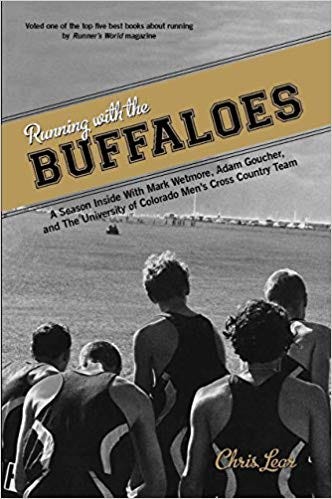 It's been forever since I recommended a book to you!
Going to stick with the cross-country theme of this issue and tell you to check out the classic Running with the Buffaloes by Chris Lear if you haven't yet. The book spends one season with the University of Colorado cross-country team when American great Adam Goucher was at the peak of his collegiate career.
The final kick
That's this week's issue!
If you are reading this online or it was forwarded to you by a friend, you can subscribe by hitting this button:
If you like Run the North and want to tell your friends, you can do that with this button:
If you want to reach out for any reason — share a story, say hi, correct an error — you can email me at runthenorthnews@gmail.com.
Thanks for reading, and keep on running!